AA Divison
Requirements
CNLL's AA Division consists of kids who are league ages 8, 9, & 10. Players must attend a try out where skills are assessed. This is the CNLL's first level of kid pitch. Any player in the "AA", "AAA" or Majors divisions that does not participate in tryouts is not eligible to be drafted and will be a "hat-pick" which means the player's name will be drawn from a hat at the end of the draft by a manger to fill his roster. Fundamental skills are stressed, but games move at a faster pace, and game strategies are taught. Mandatory play is enforced. League age 8 year old players may tryout but are NOT guaranteed a roster spot in this division. There is a post-season tournament at the end of the season.
Standing & Schedules
This page will be updated every Sunday throughout the season. The standings are contingent upon the managers reporting their scores to the Division Director.
Standings AA
Schedule AA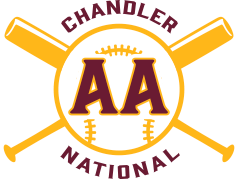 AA Sponsors
Silver Leaf' Appraisals • Floridino's  •Retronix • Elite Delivery Service • Sitework Landscaping • Tour Striker Golf Academy • Savage Air Conditioning • E&J Appliance Service Company • Relevate • Scorpion Rebels • Darwin Wall Realtor – Paulina Matteson